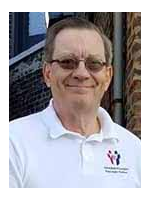 Frank Salato was 27 when his father Frank, a Navy Veteran, passed away at the age of 57  the loss started his drive to be as giving as his Dad and has perpetuated to be as caring as his dearly departed mother, Alice, and brother Lawrence.
In response to the suffering caused by Hurricane Katrina Frank wanted to do more than writing a check. Henceforth, the formation of the United Relief Foundation in 2006 leading to humanitarian aid for Veterans that carries on to this day.
Even though Frank is appreciative of the accolades, from receiving the Lions Outstanding Service Award to a Good Morning America appearance, he gives the credit of the good done and differences made to the generosity of others.